NMW covers the Radio and Music industry with its published magazine, website, and e-NMW alerts. NMW, built by radio stations who "break" the hits first, has become the standard for tracking radio airplay nationwide using the industry leading tracking service . .STS!
New Music Weekly magazine begun it's New Music Weekly Radio Network in 2003 with it icon radio show entitled "Labor Day Weekend Radio Special". Since then NMW releases six syndicated radio specials annual including Memorial Day , Labor Day , Christmas, Independence Day, Valentines, and End Of Year special. New Music Weekly accepts submissions for the both "pop version" and "Country version" of each syndicated special. Both version highlight the newest and the best artists at Top40, AC , Hot AC, Country and College radio!
New Music Weekly brings music to your door. Like what you hear on our Future Hits CD Compilations? Subscribe to New Music Weekly magazine and get serviced music from record labels and artists worldwide! We will connect you to a variety of genres including Top40/CHR, AC, Hot AC, Country and College. Every issue includes insight reviews, feature articles,exclusive photos, editorials, industry news and much more.
New Music Weekly prides itself in providing the industry with the most accurate and current data each and every week. NMW has dedicated entire sections of each weekly magazine towards the progression of Top40/Pop music. Features include editorials, highlights of top singles impacting radio, new music spotlights.
Our AC format consist of the most "cutting edge" radio stations within the United States. Those selected to be reporters to New Music Weekly magazine are stations which survive by "breaking" music by both Major and Indie artists. . .a foundation which the format has been built on.
New Music Weekly has revolutionized the way radio and record executives look at charts.by using STS technology used t o deliver the most highly accurate chart information available. New Music Weekly is the industry leading provider of information for our Country Chart information which covers music played at commercial.
Always two steps ahead, New Music Weekly has been known for creating trends. Such is the case with our College chart; a compilation of AAA, Loud Rock, RPM, Hip Hop, Jazz and Americana. Formats stand on their own foundation, industry executives have quickly realized that there is much common ground within College radio.
Read On Any Device
Read New Music Weekly magazine on any device.  On-the-go connected whether on your mobile, tablet, or desktop. Auto-bookmark feature also makes sure that you never forget where you left off. Display the look and feel of your magazine by subscribing today.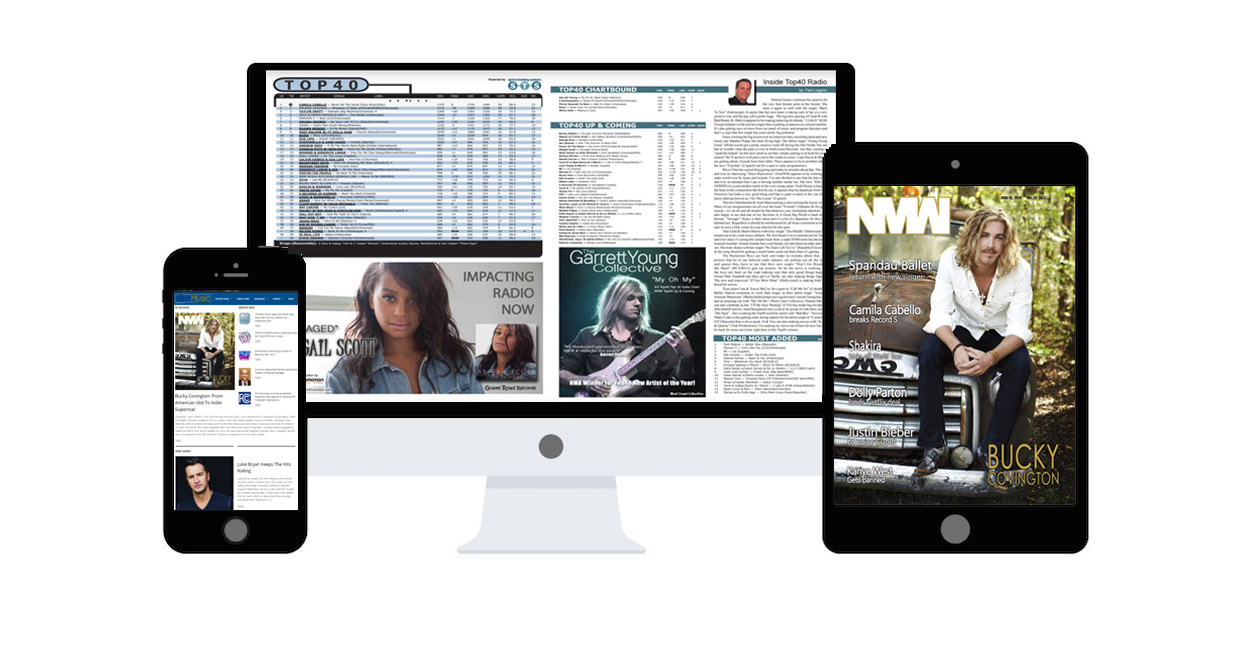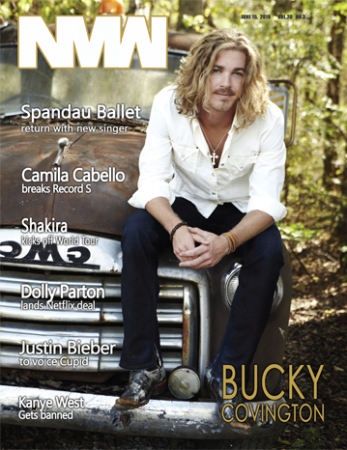 INDIE ARTISTS FIGHT FOR RADIO
Bucky Covington first came to our attention on American Idol. William Joel "Bucky" Covington III was born November 8, 1977. At the age of 18, Covington taught himself how to play the guitar and began performing at clubs. He is also a bassist, drummer and songwriter. Over the years, Covington has expanded his talents, both country and rock. After some time, he elected to perform both original and cover material in a cross-genre vein. Bucky is also a musician and is the former lead singer of the North Carolina band Swamp Cat. As a Country music singer, he placed eighth on the 5th season of the Fox Network's talent competition series American Idol. In December 2006, he signed a recording contract with Lyric Street Records. His self-titled debut album, produced by Dale Oliver and Mark Miller of the band Sawyer Brown, was released on April 17, 2007. The album debuted at number one on the Billboard Top Country Albums chart, and produced three hit singles on the Hot Country Songs charts: "A Different World" at number six, "It's Good to Be Us" at number eleven, and "I'll Walk" at number ten. Three more singles: "I Want My Life Back," "Gotta Be Somebody" and "A Father's Love (The Only Way He Knew How)," were released for an unreleased second album, titled I'm Alright, and later included on his 2011 album, Good Guys. Bucky bought a house in Franklin, Tennessee, near Nashville, which he shared with Bucky and his wife Terra. Bucky also joined Bucky's band as a drummer. On February 13, 2007, he and his wife Crystal separated after more than seven years of marriage. Covington became engaged to Katherine Cook in 2011 and on October 10, 2014, she gave birth to their daughter, Kennedy Taylor Covington. We will keep you apprised on the "life and times" of Bucky Covington here at New Music Weekly. 
NEW MUSIC AWARDS WINNERS
Bobby Estell (aka Bobby Bones) was born in Hot Springs, Arkansas, to Pamela Hurt. Bobby began dreaming of a radio career around the age of 5 or 6. Bones grew up poor in a trailer park, and often viewed radio as a ticket out of poverty. Bones began his radio career at age 17 at the campus station of Henderson State University, KSWH-FM 91.1. He graduated with a B.A. in Radio/Television from Henderson in 2002. While still in college, Bones went to work as a station hand at KLAZ in Hot Springs, Arkansas, but was put on the air within a few days of being hired. A manager there gave him the choice of going on the air as Bobby Z or Bobby Bones. In 2002, Bones was hired by Q100/KQAR in Little Rock, Arkansas. While there, he broke into another radio station (KLAL), which led to his next job in Austin, Texas, to begin hosting The Bobby Bones Show on KHFI-FM. Bones's first full-time radio contract paid him $17,000. While in Austin, he met two of his future co-hosts, Lunchbox (in a bar) and Amy (in a radio cohost contest after Jill left. Neither had radio experience when Bones put them on the air. His executive producer, Alayna, was previously an intern on the show. Over ten years, the show built its audience into the top-rated morning show in Austin and was syndicated in a few regional markets. At the height of his popularity, Bones was offered a job outside of radio but ultimately chose to remain with Clear Channel. In the fall of 2012, Clear Channel moved Bones and his show from Austin and its Top 40 format to Nashville and a country music format while taking The Bobby Bones Show nationwide. Bones took over the slot hosted by longtime DJ Gerry House, who retired in 2010. Bones now broadcasts from WSIX-FM in Nashville on weekday mornings from 5 to 10am. His co-hosts are Lunchbox and Amy, and features Ray, Eddie, Morgan, Mike D, and Morgan #2. Michael Bryan is the program director. The Bobby Bones Show has become a regular interview stop for top country music stars, including Luke Bryan, Taylor Swift, Blake Shelton, Tim McGraw, Lady Antebellum, Jason Aldean, Dierks Bentley, and The Band Perry. On air, Bones and his cohosts break the country radio mold with a mix of pop-culture news and information.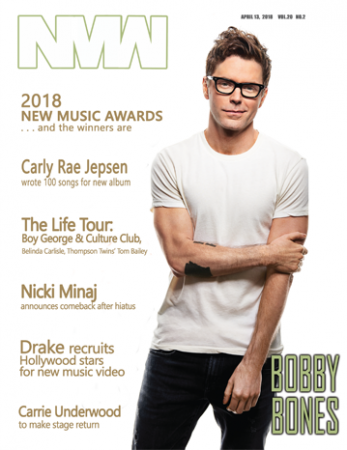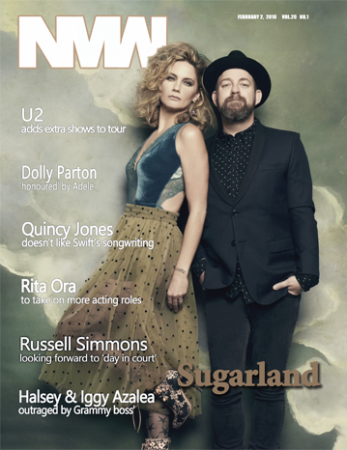 NEW YEAR, NOMINATIONS & CRS
Sugarland is one of our long-time favorites here at New Music Weekly. We have been tracking them from the beginning of their career and have been one of the first music publications to do so. This super all American country music duo consisting of singer-songwriters Jennifer Nettles (lead vocals) and Kristian Bush (vocals, acoustic guitar, mandolin). Sugarland was founded in 2002 by Kristen Hall with Bush and became a trio after hiring Jennifer Nettles. Signed to Mercury Nashville Records in 2004, Sugarland broke through that year with the release of their debut single "Baby Girl", the first single from their multi-platinum debut album Twice the Speed of Life. Hall left the group in late 2005 due to stress before the release of the groups second album, Enjoy the Ride. This album produced their first two No. 1 singles (in the U.S.), "Want To" and "Settlin'", and won the duo a Grammy for "Stay". In 2008 they released their third album, titled Love on the Inside. This album produced three more No. 1 singles with "All I Want to Do", "Already Gone", and "It Happens". Their fourth album, The Incredible Machine, was released on October 19, 2010 in both a standard and deluxe edition. Upon The Incredible Machine being certified platinum, Sugarland has sold in excess of 14 million records. Besides songs written with Kevin Griffin, Nettles and Bush write all of the band's songs. In 2012, after recording a series of tours, the duo went on hiatus due in part to Nettles taking a maternity leave; during the hiatus, both she and Bush recorded solo projects. They officially reunited in 2017 and announced that they were working on new music together for Big Machine Records. This is our very special New Music Awards Nominations & CRS issue. We want to congratulate all of our nominees and we will forward to seeing many of them in the winner's circle & we look forward to a great 2018 CRS event as well.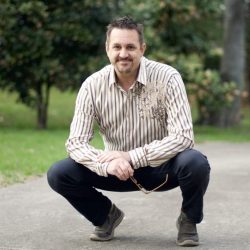 Paul Loggins
Throughout his career, Paul Loggins has pushed against boundaries changing the landscape of the music industry. As founder of cutting edge companies including Loggins Promotion, AirplayAccess, STS (Spins Tracking System), New Music Showcase, New Music Weekly Magazine, and its New Music Awards which celebrates both major and independent artists/bands, radio programmers and music industry executives, Loggins have carved a pathway for independent music to thrive.  As veteran record promoter,  Loggins has dedicated three decades of his career supporting independent musicians.